Tobias Richter
German Special Effects guru \n
Tobias Richter is well known in Germany for creating top quality special effects, in particular Star Trek related. He runs the highly successful company "The Light Works" in Cologne. \n
At FedCon in 2009, he made a beautiful short special effects film for the FedCon and this led to Peter Walker asking him if he would create special effects for New Voyages.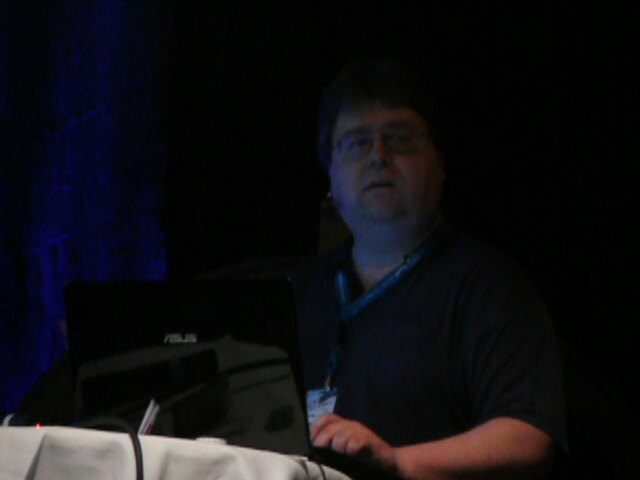 A Visit to Tobias Richter
\n
After FedCon in 2010, James Cawley (Kirk), Patrick Cawley (Zon), Peter and Tara Walker visited Tobias's offices in the south of Cologne where Tobias Richter creates all those fantastic special effects. This was a chance for James to see how it is all done and Peter Walker was able to film a great interview.
An Interview with James Cawley (Star Trek Phase II) and Tobias Richter (The Light Works)
This video was initially released in 2010. The video has been stabilized, re-edited and extended in July 2012.
* = Added or improved in 2012 version. \n
00:00 Introduction by James Cawley
00:21 Tobias Richter and his model collection
02:47 7 of 9 and Jeri Ryan
04:57 Klingon battle sequence from Kitumba
07:17 Creating an SFX shot
11:35 The 2009 Star Trek Movie Enterprise
13:42 Discussing the special feature clip
15:17 FedCon XX special feature clip (both Enterprises) *
16:23 Buck Rogers rocket ship
17:27 Buck Rogers Begins Trailer
17:53 Discussing Buck Rogers
19:30 Scene from Buck Rogers Begins *
22:20 Discussing Buck Rogers
24:42 Discussing Pony Horton (other SFX contributor)
25:42 World Enough and Time, Excelsior set
29:28 Dealers selling episodes
30:01 To Serve All My Days 1969 - why not available for download
31:04 The Pilot - Come What May
33:02 Video editing and the timeline
41:36 Discussing Blood and Fire
43:58 Discussing Enemy Starfleet
46:59 Scene from Enemy Starfleet *
48:37 Problems shooting Enemy Starfleet
50:58 McCoy transporter room scene (ES) *
Tobias at FedCon 2011 \n
Tobias held an interesting talk at FedCon 2011. We managed to obtain permission to film this talk and put it online (thanks Dirk). Note: The following video is in the German language.
You will find Tobias's special effects in all our episodes starting with Enemy Starfleet.
FedCon XX - 2011 Panel Tobias Richter, SFX Expert (German)
Tobias at FedCon 2013 - The Visual Effects of Star Trek Phase II

German language presentation of: The Visual Effects of Star Trek Phase II
English and Spanish subtitles are available for the presentation, not yet the Q&A section.

Tobias Richter is one of Germany's best special effects artists and has a long history of creating Star Trek related effects with his company: http://www.thelightworks.com

Tobias has been providing special effects for Star Trek Phase II episodes since Enemy Starfleet and his work on this project has been highly acclaimed. In this German language panel, Tobias shows how he created some of the effects for the series.

This presentation took place on Thursday, May 9, 2013 at the FedCon Star Trek Convention in Düsseldorf, Germany. http://www.fedcon.de

In the recently released vignette "Going Boldly," not only does Brian Gross have his debut as Captain Kirk, we also get to see a completely redesigned Enterprise, based on the planned Phase II design for the series that Paramount never made, and the virtual character "Lt. Arex," who is a character known from the animated series, yet never previously seen in any live action series. Both the new ship and Lt. Arex were created by Tobias Richter.

What often looks simple in the script can be very difficult to implement. Animatic models have to be built that work with the right timing and in sequence - finally the individual elements are assembled in compositing to create a harmonious and very realistic looking scene. Each sequence can take, depending on the density of effects - several weeks to several months of work. The procedure used here is not much different to those used in commercial productions, except that the artist has more time and freedom to implement the scenes for the fan-film.

In this lecture, examples of the effect works and various intermediate steps are shown - models, animatics, and final compositing shots demonstrate how such effects are created.



FedCon XXII - 2013 Panel Tobias Richter, SFX Expert German with English/Spanish subtitles
FedCon 2014 - Visual Effects of Star Trek Renegades, Phase II and Axanar

Tobias Richter gave an English language presentation on the use of visual effects in three independent Star Trek productions.

00:58 Star Trek Renegades
Note: Due to the accidental breakage of a camcorder just as this panel was beginning, we had to improvise. That is why the video quality of the speaker is poor until we were able to get another camera operating from 07:40 in this video.
FedCon 2014 Panel Tobias Richter - Visual Effects of Star Trek Renegades, Phase II and Axanar