This site is owned and run by:

Peter Walker
Freiburger Str. 17
50859 Cologne
Germany
Tel: +49 (0)176 22933017
Fax: +49 (0)221 20046973

Website Design
English Text
Video Editing/Conversion
English captions/subtitles
Int. subtitle coordination

Stephan Mittelstrass
Bahnhofstr. 5
86825 Bad Wörishofen
Germany
Tel: +49 (174) 3591237

Graphic Design
German Text
German Subtitles

© 2008-16: All photographs on this site copyrighted. No use allowed without previous permission!

We accept no responsibility for the contents of any websites linked with ours.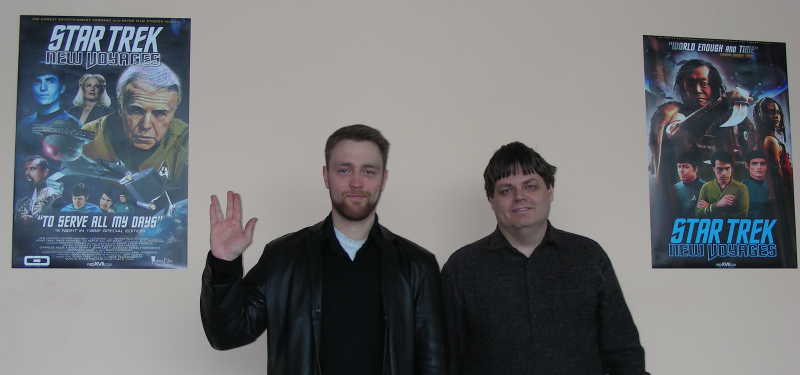 Stephan Mittelstrass and Peter Walker
Use of Copyrighted Material on this Website
ALL EPISODES ARE PRODUCED FOR NO PROFIT AND ARE AVAILABLE AS FREE DOWNLOADS
All downloads on this website are fully authorized by the copyright holder. There are no illegal downloads on this website. Use of "Star Trek" on this website is fully authorized by CBS/Paramount.

STAR TREK and all related marks, logos and characters are owned by CBS Studios Inc. "Star Trek: New Voyages/Phase II", it's websites, mirror sites and episodes, the promotion thereof and/or any exhibition of material created by Cawley Entertainment Company/Retro Film Studios LLC are not endorsed or sponsored by or affiliated with CBS/Paramount Pictures or the STAR TREK franchise.

The musical composition in our videos is a combination of our own work and the intellectual property of Paramount Home Entertainment/CBS Home Entertainment. It is being used in the Star Trek New Voyages: Phase II productions with the FULL knowledge of PHE/CBS. The video productions themselves are copyrighted by Cawley Entertainment Company, who has granted our official mirror's websites (www.startreknewvoyages.de, www.startrekphase2.de and www.stnv.de) the rights to host them as well as on our YouTube channels Startrekphase2DE / STP2Deutschland and on our Facebook page.

Privacy Policy for www.stnv.de, www.startreknewvoyages.de and www.startrekphase2.de
(referred to collectively as www.startreknewvoyages.de)
If you require any more information or have any questions about our privacy policy, please feel free to contact us by email at peter@startreknewvoyages.de.

At www.startreknewvoyages.de, the privacy of our visitors is of extreme importance to us. This privacy policy document outlines the types of personal information is received and collected by www.startreknewvoyages.de and how it is used.
Log Files: Like many other Web sites, www.startreknewvoyages.de makes use of log files. The information inside the log files includes internet protocol (IP) addresses, type of browser, Internet Service Provider (ISP), date/time stamp, referring/exit pages, and number of clicks to analyze trends, administer the site, track user's movement around the site, and gather demographic information. IP addresses, and other such information are not linked to any information that is personally identifiable.
Cookies and Web Beacons: www.startreknewvoyages.de does use cookies to store information about visitors preferences, record user-specific information on which pages the user access or visit, customize Web page content based on visitors browser type or other information that the visitor sends via their browser.

DoubleClick DART Cookie:

Google, as a third party vendor, uses cookies to serve ads on www.startreknewvoyages.de.

Google's use of the DART cookie enables it to serve ads to users based on their visit to www.startreknewvoyages.de and other sites on the Internet.

Users may opt out of the use of the DART cookie by visiting the Google ad and content network privacy policy at the following URL - http://www.google.com/privacy_ads.html


Some of our advertising partners may use cookies and web beacons on our site. Our advertising partners include Google Adsense

These third-party ad servers or ad networks use technology to the advertisements and links that appear on www.startreknewvoyages.de send directly to your browsers. They automatically receive your IP address when this occurs. Other technologies ( such as cookies, JavaScript, or Web Beacons ) may also be used by the third-party ad networks to measure the effectiveness of their advertisements and / or to personalize the advertising content that you see. www.startrekphase2.de has no access to or control over these cookies that are used by third-party advertisers. You should consult the respective privacy policies of these third-party ad servers for more detailed information on their practices as well as for instructions about how to opt-out of certain practices. www.startreknewvoyages.de's privacy policy does not apply to, and we cannot control the activities of, such other advertisers or web sites. If you wish to disable cookies, you may do so through your individual browser options. More detailed information about cookie management with specific web browsers can be found at the browsers' respective websites.
Following German text relates to legal requirements within Germany and privacy rules, etc.
Angaben gemäß § 5 TMG

Haftung für Inhalte:
Die Inhalte unserer Seiten wurden mit größter Sorgfalt erstellt. Für die Richtigkeit, Vollständigkeit und Aktualität der Inhalte können wir jedoch keine Gewähr übernehmen. Als Diensteanbieter sind wir gemäß § 7 Abs.1 TMG für eigene Inhalte auf diesen Seiten nach den allgemeinen Gesetzen verantwortlich. Nach §§ 8 bis 10 TMG sind wir als Diensteanbieter jedoch nicht verpflichtet, übermittelte oder gespeicherte fremde Informationen zu überwachen oder nach Umständen zu forschen, die auf eine rechtswidrige Tätigkeit hinweisen. Verpflichtungen zur Entfernung oder Sperrung der Nutzung von Informationen nach den allgemeinen Gesetzen bleiben hiervon unberührt. Eine diesbezügliche Haftung ist jedoch erst ab dem Zeitpunkt der Kenntnis einer konkreten Rechtsverletzung möglich. Bei Bekanntwerden von entsprechenden Rechtsverletzungen werden wir diese Inhalte umgehend entfernen.

Haftung für Links

Unser Angebot enthält Links zu externen Webseiten Dritter, auf deren Inhalte wir keinen Einfluss haben. Deshalb können wir für diese fremden Inhalte auch keine Gewähr übernehmen. Für die Inhalte der verlinkten Seiten ist stets der jeweilige Anbieter oder Betreiber der Seiten verantwortlich. Die verlinkten Seiten wurden zum Zeitpunkt der Verlinkung auf mögliche Rechtsverstöße überprüft. Rechtswidrige Inhalte waren zum Zeitpunkt der Verlinkung nicht erkennbar. Eine permanente inhaltliche Kontrolle der verlinkten Seiten ist jedoch ohne konkrete Anhaltspunkte einer Rechtsverletzung nicht zumutbar. Bei Bekanntwerden von Rechtsverletzungen werden wir derartige Links umgehend entfernen.

Urheberrecht

Die durch die Seitenbetreiber erstellten Inhalte und Werke auf diesen Seiten unterliegen dem deutschen Urheberrecht. Die Vervielfältigung, Bearbeitung, Verbreitung und jede Art der Verwertung außerhalb der Grenzen des Urheberrechtes bedürfen der schriftlichen Zustimmung des jeweiligen Autors bzw. Erstellers. Downloads und Kopien dieser Seite sind nur für den privaten, nicht kommerziellen Gebrauch gestattet. Soweit die Inhalte auf dieser Seite nicht vom Betreiber erstellt wurden, werden die Urheberrechte Dritter beachtet. Insbesondere werden Inhalte Dritter als solche gekennzeichnet. Sollten Sie trotzdem auf eine Urheberrechtsverletzung aufmerksam werden, bitten wir um einen entsprechenden Hinweis. Bei Bekanntwerden von Rechtsverletzungen werden wir derartige Inhalte umgehend entfernen.

Datenschutz

Die Nutzung unserer Webseite ist in der Regel ohne Angabe personenbezogener Daten möglich. Soweit auf unseren Seiten personenbezogene Daten (beispielsweise Name, Anschrift oder eMail-Adressen) erhoben werden, erfolgt dies, soweit möglich, stets auf freiwilliger Basis. Diese Daten werden ohne Ihre ausdrückliche Zustimmung nicht an Dritte weitergegeben. Wir weisen darauf hin, dass die Datenübertragung im Internet (z.B. bei der Kommunikation per E-Mail) Sicherheitslücken aufweisen kann. Ein lückenloser Schutz der Daten vor dem Zugriff durch Dritte ist nicht möglich. Der Nutzung von im Rahmen der Impressumspflicht veröffentlichten Kontaktdaten durch Dritte zur Übersendung von nicht ausdrücklich angeforderter Werbung und Informationsmaterialien wird hiermit ausdrücklich widersprochen. Die Betreiber der Seiten behalten sich ausdrücklich rechtliche Schritte im Falle der unverlangten Zusendung von Werbeinformationen, etwa durch Spam-Mails, vor.

Datenschutzerklärung für die Nutzung von Facebook-Plugins (Like-Button)

Auf unseren Seiten sind Plugins des sozialen Netzwerks Facebook, 1601 South California Avenue, Palo Alto, CA 94304, USA integriert. Die Facebook-Plugins erkennen Sie an dem Facebook-Logo oder dem "Like-Button" ("Gefällt mir") auf unserer Seite. Eine Übersicht über die Facebook-Plugins finden Sie hier: http://developers.facebook.com/docs/plugins/ Wenn Sie unsere Seiten besuchen, wird über das Plugin eine direkte Verbindung zwischen Ihrem Browser und dem Facebook-Server hergestellt. Facebook erhält dadurch die Information, dass Sie mit Ihrer IP-Adresse unsere Seite besucht haben. Wenn Sie den Facebook "Like-Button" anklicken während Sie in Ihrem Facebook-Account eingeloggt sind, können Sie die Inhalte unserer Seiten auf Ihrem Facebook-Profil verlinken. Dadurch kann Facebook den Besuch unserer Seiten Ihrem Benutzerkonto zuordnen. Wir weisen darauf hin, dass wir als Anbieter der Seiten keine Kenntnis vom Inhalt der übermittelten Daten sowie deren Nutzung durch Facebook erhalten. Weitere Informationen hierzu finden Sie in der Datenschutzerklärung von facebook unter http://de-de.facebook.com/policy.php

Wenn Sie nicht wünschen, dass Facebook den Besuch unserer Seiten Ihrem Facebook-Nutzerkonto zuordnen kann, loggen Sie sich bitte aus Ihrem Facebook-Benutzerkonto aus.

Datenschutzerklärung für die Nutzung von Google Analytics

Diese Website benutzt Google Analytics, einen Webanalysedienst der Google Inc. (''Google''). Google Analytics verwendet sog. ''Cookies'', Textdateien, die auf Ihrem Computer gespeichert werden und die eine Analyse der Benutzung der Website durch Sie ermöglicht. Die durch den Cookie erzeugten Informationen über Ihre Benutzung diese Website (einschließlich Ihrer IP-Adresse) wird an einen Server von Google in den USA übertragen und dort gespeichert.
Im Falle der Aktivierung der IP-Anonymisierung auf dieser Webseite wird Ihre IP-Adresse von Google jedoch innerhalb von Mitgliedstaaten der Europäischen Union oder in anderen Vertragsstaaten des Abkommens über den Europäischen Wirtschaftsraum zuvor gekürzt. Nur in Ausnahmefällen wird die volle IP-Adresse an einen Server von Google in den USA übertragen und dort gekürzt. Im Auftrag des Betreibers dieser Website wird Google diese Informationen benutzen, um Ihre Nutzung der Website auszuwerten, um Reports über die Websiteaktivitäten zusammenzustellen und um weitere mit der Websitenutzung und der Internetnutzung verbundene Dienstleistungen gegenüber dem Websitebetreiber zu erbringen. Die im Rahmen von Google Analytics von Ihrem Browser übermittelte IP-Adresse wird nicht mit anderen Daten von Google zusammengeführt. Sie können die Speicherung der Cookies durch eine entsprechende Einstellung Ihrer Browser-Software verhindern; wir weisen Sie jedoch darauf hin, dass Sie in diesem Fall gegebenenfalls nicht sämtliche Funktionen dieser Website vollumfänglich werden nutzen können. Sie können darüber hinaus die Erfassung der durch das Cookie erzeugten und auf Ihre Nutzung der Website bezogenen Daten (inkl. Ihrer IP-Adresse) an Google sowie die Verarbeitung dieser Daten durch Google verhindern, indem sie das unter dem folgenden Link verfügbare Browser-Plugin herunterladen und installieren: http://tools.google.com/dlpage/gaoptout?hl=de.

Datenschutzerklärung für die Nutzung von Google Adsense

Diese Website benutzt Google AdSense, einen Dienst zum Einbinden von Werbeanzeigen der Google Inc. ("Google"). Google AdSense verwendet sog. "Cookies", Textdateien, die auf Ihrem Computer gespeichert werden und die eine Analyse der Benutzung der Website ermöglicht. Google AdSense verwendet auch so genannte Web Beacons (unsichtbare Grafiken). Durch diese Web Beacons können Informationen wie der Besucherverkehr auf diesen Seiten ausgewertet werden. Die durch Cookies und Web Beacons erzeugten Informationen über die Benutzung dieser Website (einschließlich Ihrer IP-Adresse) und Auslieferung von Werbeformaten werden an einen Server von Google in den USA übertragen und dort gespeichert. Diese Informationen können von Google an Vertragspartner von Google weiter gegeben werden. Google wird Ihre IP-Adresse jedoch nicht mit anderen von Ihnen gespeicherten Daten zusammenführen. Sie können die Installation der Cookies durch eine entsprechende Einstellung Ihrer Browser Software verhindern; wir weisen Sie jedoch darauf hin, dass Sie in diesem Fall gegebenenfalls nicht sämtliche Funktionen dieser Website voll umfänglich nutzen können. Durch die Nutzung dieser Website erklären Sie sich mit der Bearbeitung der über Sie erhobenen Daten durch Google in der zuvor beschriebenen Art und Weise und zu dem zuvor benannten Zweck einverstanden.

Quelle: eRecht24.de

Website Impressum erstellt durch impressum-generator.de von Franziska Hasselbach, www.dodisco.de