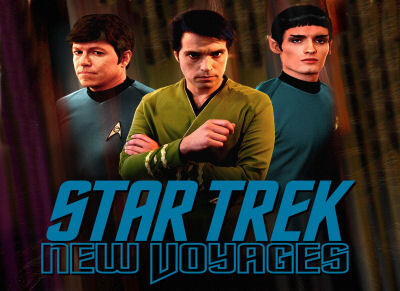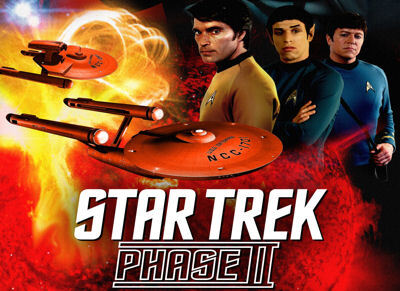 Star Trek: New Voyages Becomes Star Trek: Phase II
On Saturday, February 16th, Executive Producer James Cawley announced to fans during an appearance at the 2008 Farpoint Science Fiction Media Convention in Baltimore, Maryland, that Star Trek: New Voyages would shed the "New Voyages" moniker and become Star Trek: Phase II. Cawley assured fans that the change would be more than just the name, promising that the production will have access to new people, new materials, and a new direction, but will remain focused on his original vision for the show.
"Make no mistake about it, this is a new beginning for our production. This will be the next step in our effort to provide the quality show fans have come to expect, with commitment and dedication to keeping the original series look and feel that fans have come to enjoy," said Cawley, "As before, we will strive to involve familiar faces from Star Trek's 40-year legacy in our episodes, as well as actors from other classic SciFi shows when we can. You will see the changes taking place over the next few weeks, but you will really appreciate the changes when we release our future episodes."
This change naturally generates questions and we have chosen a few that immediately come to mind and tried to answer them for fans.
Q. Why are you changing the name of Star Trek New Voyages?
A. New Voyages began as a fan film project, as a bunch of friends who love Star Trek working together to prove there was still plenty of creative life in Gene Roddenberry's original vision of Star Trek. With our recent Online Video Award from TV Guide for Best SciFi Webisodes, we think we've proven that. We're ready now to move to a higher level -- Phase II, Gene's proposed title for a second Trek series that would've aired in the 1970s.
Q. Why make this name change now?
A. The almost universally positive reviews of our latest episode, "World Enough and Time," combined with our next episode, David Gerrold's "Blood and Fire" convinced us that this was the time to re-brand ourselves, to demonstrate our commitment to keep raising the bar for our stories and our production values. What better way than to literally move to our next phase, and to continue to honor Gene Roddenberry's vision.
Q. What about your original mission to continue the original voyages of the Enterprise, Captain Kirk's five-year mission?
A. Our series will continue to tell the stories of the final two years of the Enterprise's five-year mission under Captain James T. Kirk. What we want to depict, though, is the transition between what we saw in the first three seasons of the original TV series and the look and feel that we saw in Star Trek: The Motion Picture.
Q. What changes will we see? How will "Phase II" be different from "New Voyages"?
A. Some changes will be immediate, like our new cast members. Our next episode, Part 1 of David Gerrold's "Blood and Fire" will introduce our new Mr. Spock (Ben Tolpin) and Lt. Uhura (Kim Stinger), and bring a new character to our regular cast, Ensign Peter Kirk (Bobby Rice), Captain Kirk's nephew. Upcoming episodes will feature our new Sulu (J.T. Tepnapa) and Chekov (Jonathan Zungre). Other changes will be more subtle, as we introduce new technology and story elements. Phase II will also feature our first spin-off series, "Star Trek: First Voyages," whose pilot episode will be shot this summer and be released originally as an episode of Phase II.
Subspace Communication from Executive Producer James Cawley
Hello Everyone, First off I would like to say Thank You So Much to all of you who are our Friends, Fans and Supporters. I have been reading many of your posts today and wanted to take a moment to try and answer some of your questions regarding the series, New episodes, and my involvement. \n
Many of you know that I started this series more than 10 years ago so I could live out my childhood fantasy of getting to play Captain Kirk. I wanted to continue that 5 year mission and finish off those last two seasons we never got. Well, I enjoyed playing the part immensely. I got to live my dream to be Kirk. I got to appear on screen with my heroes George Takei, and Walter Koenig, and Barbra Luna! I will forever be Grateful to them. However, during the course of playing the part I was subjected to many, many cruel comments posted on several websites as to my acting abilities, or my looks and quite honestly it was becoming much to much handle. I was devastated by the venom. I could not fathom, how my fellow Trek fans could be so hurtful towards me for just playing a part! So I decided to step down as an actor, and take my show to a new level and find a new young actor to fill the role, not an amateur but a pro! I found that in Brian Gross. A Terrific and very talented guy with many guest appearances on many prime time TV series! He is still getting settled in, but I assure you it is a pleasure watching him settle into and find the swagger of the character, I feel over the next three episodes he will be completely in the groove and what I like is that he is making Kirk his own and NOT doing a Shatner impersonation! I am still here, guiding the series as Senior Executive Producer and I have more time to devote to the creative side of the series. We are Releasing the long delayed episode "Kitumba" on January 1, 2014, which will mark my finale as Kirk, and then on February 14, 2014 we release "The Holiest Thing" with Brian Gross taking over. \n
In post production we have "Bread and Savagery" which is next in line for release. "Mind-Sifter" will be shot and completed in late June of this year with Brian Gross. The episode "Origins" has been placed on hold, pending a complete re shoot due to complications with actor availability.\n Again, let me say Thank You to all of those who I have worked with over the last 10 years and to those of you who have enjoyed our work.
I look forward to many more voyages together, Live Long and Prosper Friends!
Return to the original "New Voyages" name on June 9, 2015

As a bit of an homage to that old Star Trek: The New Voyages book, we decided to release "Mind-Sifter" under our "Star Trek: New Voyages" moniker, rather than our "Star Trek: Phase II" moniker. Further, for a variety of reasons, this episode plays better as an episode that takes place during the The Original Series (TOS) era–back during the first three years of Captain Kirk's five-year mission, rather than during the two later years of his mission.
Two new logos are now used to represent our series. The first one is used to just represent New Voyages on new episodes, etc. The second logo combines both the New Voyages and Phase II in order to represent that both names have been used by us.