Tobias Richter
German Special Effects guru \n
Tobias Richter is well known in Germany for creating top quality special effects, in particular Star Trek related. He runs the highly successful company "The Light Works" in Cologne. \n
At FedCon in 2009, he made a beautiful short special effects film for the FedCon and this led to Peter Walker asking him if he would create special effects for New Voyages.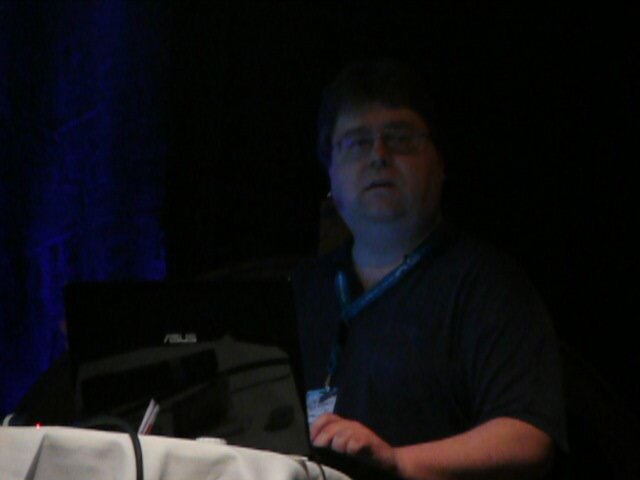 A Visit to Tobias Richter
\n
After FedCon in 2010, James Cawley (Kirk), Patrick Cawley (Zon), Peter and Tara Walker visited Tobias's offices in the south of Cologne where Tobias Richter creates all those fantastic special effects. This was a chance for James to see how it is all done and Peter Walker was able to film a great interview.
An Interview with James Cawley (Star Trek Phase II) and Tobias Richter (The Light Works)
This video was initially released in 2010. The video has been stabilized, re-edited and extended in July 2012.
* = Added or improved in 2012 version. \n
00:00 Introduction by James Cawley
00:21 Tobias Richter and his model collection
02:47 7 of 9 and Jeri Ryan
04:57 Klingon battle sequence from Kitumba
07:17 Creating an SFX shot
11:35 The 2009 Star Trek Movie Enterprise
13:42 Discussing the special feature clip
15:17 FedCon XX special feature clip (both Enterprises) *
16:23 Buck Rogers rocket ship
17:27 Buck Rogers Begins Trailer
17:53 Discussing Buck Rogers
19:30 Scene from Buck Rogers Begins *
22:20 Discussing Buck Rogers
24:42 Discussing Pony Horton (other SFX contributor)
25:42 World Enough and Time, Excelsior set
29:28 Dealers selling episodes
30:01 To Serve All My Days 1969 - why not available for download
31:04 The Pilot - Come What May
33:02 Video editing and the timeline
41:36 Discussing Blood and Fire
43:58 Discussing Enemy Starfleet
46:59 Scene from Enemy Starfleet *
48:37 Problems shooting Enemy Starfleet
50:58 McCoy transporter room scene (ES) *
Tobias at FedCon 2011 \n
Tobias held an interesting talk at FedCon 2011. We managed to obtain permission to film this talk and put it online (thanks Dirk). Note: The following video is in the German language.
You will find Tobias's special effects in all our episodes starting with Enemy Starfleet.
FedCon XX - 2011 Panel Tobias Richter, SFX Expert (German)
Tobias bei FedCon 2013 - Die visualle Effekte of Star Trek New Voyages: Phase II
Tobias Richter ist Visual Effects Artist und leitet das "The Light Works" Studio in Köln. Er ist langjähriger Star Trek Fan und durch zahlreiche Arbeiten für die Fedcon bekannt, ausserdem als Graphiker der "Ships of the Line" Kalender und anderer Star Trek Buchproduktionen ("Star Trek - TNG - 365", "On board the Enterprise") sowie durch seine Mitarbeit am TNG BluRay Release.
"Star Trek - Phase II" (ehemals "New Voyages") ist die erfolgreichste und bekannteste Fan-Serie im Internet. Die Gruppe um James Cawley kann auf 8 veröffentlichte Episoden und mehrere Vignetten zurückblicken - 3 weitere Episoden sind zu Zeit in der Postproduktion. Tobias Richter ist seit 2009 aktiv dabei - die ersten seiner Arbeiten waren in der Episode "Enemy:Starfleet" zu sehen, und ab "The Child" arbeiten er und Pony Horton alleinverantwortlich an den visuellen Effekten.
Richters Aufgabenbereich umfasst die komplett im Computer erstellten Szenen im Weltraum, aber auch Matte Paintings, Setkorrekturen, virtuelle Charactere und die vielen kleinen Dinge, die man nie als visuellen Effekt erkennen wird.
Für die zuletzt erschienene Vignette "Going Boldly", in der Schauspieler Brian Gross sein Debut als Captain Kirk hat, wurde eine komplett neue Enterprise erschaffen, die sich vom Design her an dem damals geplanten Phase II Design orientiert. Ausserdem debütiert der virtuelle Character "Lt. Arex" in einem kurzen Cameoauftritt. "Lt Arex ist den meisten bekannt aus der "Animated Series", wurde aber noch nie in einer "realen" Serie eingesetzt.
Was sich im Drehbuch oft einfach liest, kann in der Umsetzung sehr kompliziert sein. Es müssen Modelle gebaut werden, Animatics fürs richtige Timing und Ablauf gemacht werden - sowie schliesslich die einzelnen Elemente berechnet und im Compositing zu einem harmonischen und möglichst realistisch aussehenden Ganzen zusammengefügt werden. Für jede Folge sind das - je nach Effektdichte - mehrere Wochen bis mehrere Monate Arbeit. Die Vorgehensweise unterscheidet sich dabei kaum von denen kommerzieller Produktionen, nur haben die Künstler bei Fanproduktionen mehr Zeit und mehr Freiheiten die Dinge so umzusetzen, wie sie wollen.
Im Vortrag werden Beispiele der Effektarbeiten und verschiedene Zwischenschritte gezeigt - Modelle, Animatics, Compositings und fertige Shots - sowie demonstriert, wie man bei der Erstellung dieser Effekte vorgeht.
FedCon XXII - 2013 Panel Tobias Richter, SFX Expert German with English/Spanish subtitles
FedCon 2014 - visualle Effeke von Star Trek Renegades, Phase II und Axanar
Tobias Richter hielt eine englischsprachige Präsentation über den Einsatz von visuellen Effekten in drei unabhängigen Star Trek-Produktionen.
00:58 Star Trek Renegades
Anmerkung: Wegen des zufälligen Bruchs eines Camcorders, gerade als dieses Panel anfing, mussten wir improvisieren. Deshalb ist die Videoqualität des Sprechers schlecht, bis wir in diesem Video eine weitere Kamera ab 07:40 Uhr in Betrieb nehmen konnten.
FedCon 2014 Panel Tobias Richter - Visual Effects of Star Trek Renegades, Phase II and Axanar