Star Trek Phase II Vignette: Timeline Restored - Download
Folgen
Background:



James Cawley (Kirk - New Voyages: Phase II) visited FedCon -Europe's largest Star Trek convention - in 2010. After the convention, he had an opportunity to visit Tobias Richter at his CGI-Graphics company, The Light Works in Cologne. That meeting can be seen on video here. \n
During that meeting, Tobias showed his CGI model of the Enterprise from the 2009 Star Trek movie by J.J. Abrams, which James had a small guest role on. \n
James dislikes the shape of that movie Enterprise and suggested Phase II could put out a short video where the original Enterprise blows up the movie version!!! \n
The finished video does not blow up the ship, as a more ingenious solution is thought up by Tobias. It was first shown at FedCon as the opening video in 2011 and released the same day on YouTube by Phase II here:\nhttp://www.youtube.com/watch?v=xbMVLtFGiy4
We

have now released a video that shows the discussion between James Cawley and Tobias Richter about how to make the episode and then it shows the finished production as shown, a year later, at FedCon 2011 and afterwards released on the Internet.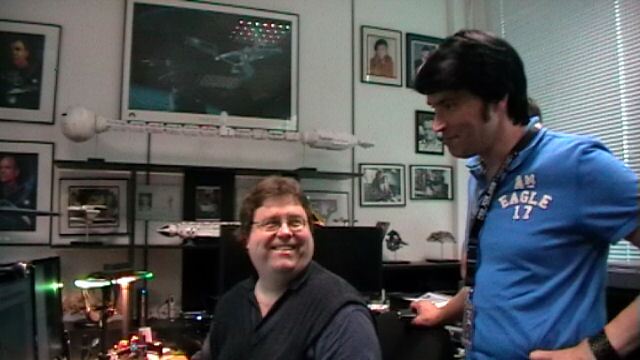 Tobias Richter and James Cawley
Download:
Fan Reaction \n
The reaction by Star Trek fans has been overwhelmingly positive with to date 91500 views with 738 Likes and only 26 dislikes on the two YouTube releases of this video. \n
Many fans hope that JJ will consider a refit of his Enterprise model to make it more acceptable to the fans. Here are a selection of comments (which are not representative of Star Trek New Voyages: Phase II):
"Do you know how many people's dreams you have fulfilled with this!?" \n
"I thought this was a great sequence. But I will admit that I did enjoy the new movie, except for a few beefs about ship interiors that seemed to have been borrowed from Willy Wonka and the Chocolate factory. I'm more of a fan of Sci-fi in general as opposed to being a card carrying Star Trek fanatic, but it would sadden me if Star Trek were to fade to being a forgotten historical footnote. Seeing the spirit of the show being kept alive by Star Trek New Voyages has been quite a treat."
"I love how both of the actors in this clip *actually appeared* in the 2009 film, *aboard* the ship they just deleted." \n
"Boldly going back to the future that once was."
"LOL...now that's cold!" \n
"Not cold enough, though. Cawley originally wanted the CG artist to have that "thing", the JJ Prise get blown to pieces, which would have been awesome to see." \n
"Yay, even the lens flare is there! spot on, I must admit ;) at the 0:13 angle you could actually think of the new design as 'not so bad'... but it requires more than that... Wonder if that 3 years of fan response made the producers think and we'll get a revised version in the second film... (a rethoric question, I know....)"