The Sky Above, The Mudd Below.
News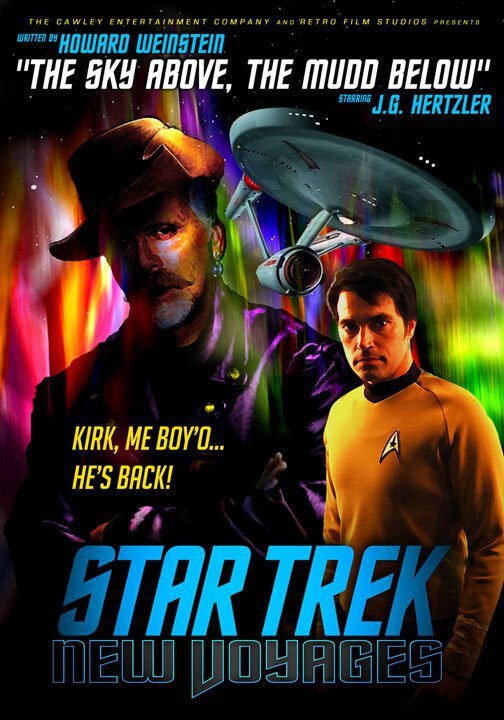 BY GREGORY L. SCHNITZER – OCTOBER 21, 2014
\n \n Following my "backburnered Star Trek Phase II episodes' posting, some readers have been asking for more details on why these episodes were nixed. Sometimes the reasons are complicated; other times the reasons are simple. In the case of our "Harry Mudd" story, the reasons are fairly simple: unavailability of the planned actor and director.
"The Sky Above, The Mudd Below." was (and still is, for that matter) a story idea we've been excited about for years. It's a story that reunites that interstellar nuisance Mr. Harcourt Fenton ("Harry") Mudd, a character from two TOS episodes ("Mudd's Women"–episode number 4, and "I, Mudd"–episode number 41) and one animated episode ("Mudd's Passion"–episode number 10) with the rest of the Enterprise crew. The script, if indeed it ever finally gets produced, is written by Mr. Howard Weinstein—writer of the script for the animated Star Trek episode "The Pirates of Orion" (episode number 17), as a well as a few Star Trek-related novels.
It's also no secret that a couple of years ago when we had been planning to shoot this Harry Mudd episode, Mr. J.G. Hertzler ("General Martok"–the Klingon from numerous episodes of Star Trek: Deep Space Nine) was slated to be both the director of the episode and our main guest star as well; he was slated to appear in the role of Harry Mudd. Alas, it wasn't to be: Mr. Hertzler sustained a shoulder injury requiring some surgery and he also accepted a new teaching position in the Cornell University Department of Theatre, Film & Dance. So, Mr. Hertzler suddenly became much less available to us than he had been—and we hated the notion of recasting the Mudd role or hiring a new director simply because Mr. Hertzler's schedule changed. If the stars align, we may yet produce this episode—but we'd really hate to do it without him. We'll see what the future brings. The episode may just be on a backburner, constantly being pushed back by other productions that really pique our interest—or perhaps "The Sky Above, The Mudd Below" simply fell down the back of the stove altogether—never to be seen again. Time will tell.
In the meantime, for those fans who enjoy keeping track of such details, "The Sky Above, The Mudd Below," is actually available—in comic book form. Howard Weinstein wrote the script for our "The Sky Above, The Mudd Below" episode based on a three-issue story he did that originally had life as a DC Comics' Star Trek comic book series. This three-part Harry Mudd story, written by Howard Weinstein, pencils by Gordon Purcell, and inks by Arne Starr, unfolds over three separate issues:
DC Comics' Star Trek Volume 2, Issue #22 from September, 1991 "Mission: Muddled:"
DC Comics' Star Trek Volume 2, Issue #23 from October, 1991 "The Sky Above… The Mudd Below:"

DC Comics' Star Trek Volume 2, Issue #24 from November, 1991 "Target: Mudd!:"

For those who are just dying to learn more about our "not-yet-and-maybe-not-ever-to-be-produced" episode "The Sky Above, The Mudd Below," I encourage you to seek out these three old DC Comics issues at your local comic book shop or, of course, on ebay.

Once again, questions, comments, feedback, and, of course, "Shares," "Likes," or "+1s" are greatly appreciated.
So, are you getting any educational or entertainment value from these posts?
About Gregory L. Schnitzer
Gregory L. Schnitzer is Co-Executive Producer on the fan-based Internet series Star Trek Phase II (formerly known as Star Trek New Voyages). Greg is a Registered Nurse and is generally in charge of Emergency Medical Services at the Star Trek Phase II shoots. He also generally serves as the production's Property Master and on-again, off-again Set Decorator. Born and raised in the beautiful but smoggy San Fernando Valley (which he still calls "home"), in real life, Greg is a Registered Nurse and Certified Six Sigma Black Belt, and currently works in the field of Health Information Management at various facilities and in various capacities in the Washington, D.C., greater metropolitan region.