Star Trek Film Academy
News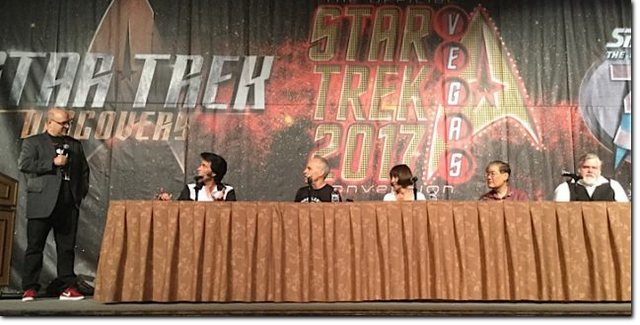 Star Trek Las Vegas 201: James Cawley Announces 'Star Trek\n Film Academy' to start in Spring.


August 7, 2017: Peter Walker
James Cawley is well known for making the Star Trek New\n Voyages: Phase II Fan-Film series (www.stnv.de),\n where he portrayed Captain Kirk in eight episodes and three vignettes.
After CBS announced the Fan-Film Guidelines in June 2016,\n James closed down production of "New Voyages" and turned the studio into the\n CBS licensed "Star Trek Original Series Set Tour" (www.startrektour.com) in Ticonderoga,\n Upstate New York.

On August 5, 2017, James Cawley made a major new announcement\n at STLV17: The opening of a new CBS licenced "Star Trek Film Academy", set to\n start in Spring 2018.  
The "Academy" is officially licensed by CBS and will offer a\n week-long training course on all aspects that go into making an original\n episode of Star Trek as explained by James Cawley:
"You are going to be able to come to our sets and it will be\n an academy experience. You are going to be able to learn how to make a Star\n Trek episode. You are going to go from script to stage over a six to seven-day\n period and you are going to work with people who actually made Star Trek\n episodes."

Also on the panel were Denise Okuda, Michael Okuda, Doug\n Drexler and Daren Dochterman who will all be part of the Academy. Cawley also\n noted that they are going to reach out to more Star Trek professionals to be\n part of it including asking Jonathan Frakes to direct.
Cawley states that "Being part of the Academy will be like\n traveling back in time. You get to feel and experience what it is like to work\n on Star Trek… We're going to pretend it's 1966 and you're an employee of Desilu\n Studios. At the end of your week at the Star Trek Film Academy you\n will be able to take home your own Star Trek vignette."

You can watch the announcment in full, here:



James Cawley has since provided additional details:
\n There is a lot of speculation, leading to much mis information about our STAR TREK FILM ACADEMY. FILM ACADEMY is fantasy camp for Trek fans, who want to learn the ins and outs of making STAR TREK! They will work with Trek veterans and get to take home the film they work to create. 
This is a unique opportunity that we want to offer twice a year. This is a special offering that you can only get at STAR TREK ORIGINAL SERIES SET TOUR and nowhere else!\n \n There will be more info available as we finalize the needed planning.\n \n Some folks keep calling this FAN FILM ACADEMY, It is NOT, it IS, FILM ACADEMY. Yes, fans will be here to learn and make a short film, but remember this is a special event, a fantasy camp, not a fan film. But a way to experience what it is like to actually work on the show. You can't bring your own scripts or stories. We will be doing scripts by recognizable Trek scribes that have been approved for the Academy. 
They won't exceed 15 minutes. This is all about the experience! Looking forward to sharing more as it develops.\n \n This is not New Voyages, it is a way for fans to learn the craft and participate. It is not a fan film, although fans are doing it. It is An event, fantasy camp.