Einführung in Star Trek New Voyages: Phase II
News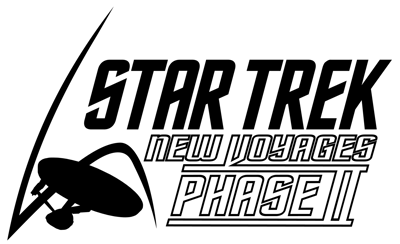 In the mid-1960s, one science-fiction series was made that would later become the most popular Sci-fi series in the world: Star Trek. What started as a simple television series went on to develop into a massive franchise of 726 TV episodes, 12 movies, many novels, dozens of computer games and other products. However, The Original Series (TOS) was only made for 3 seasons before the show was axed back in 1969.
James Cawley had already built the bridge, sickbay and several other sets from the original blueprints, when he teamed up with the director Jack Marshall and a number of fans whose aim it was to create the missing two years of the original five year mission under James T. Kirk. 
The Star Trek New Voyages team started to create new episodes, based on the original series, to continue where Kirk and his crew had left off when their series was cancelled. They are even numbering their episodes as the fourth season and have so far managed to release 11 new episodes (including the Pilot from 2003). 
The series is being put together as a fan film project under the direction of James Cawley, who also played James T. Kirk in the New Voyages/Phase II incarnation until mid-2012. Starting with "Bread and Savagery", Cawley has passed on the iconic role of Captain Kirk to the professional actor Brian Gross. James continued to helm the show as Executive Producer, making costumes etc.
As this is a fan project and we can only work with actors who volunteer their time, it has been necessary to recast a number of actors since production began in 2003. There have been two "James T. Kirks" (James Cawley and Brian Gross), three "Mr Spocks" (Jeffrey Quinn, Ben Tolpin and Brandon Stacy), two "Dr McCoys" (John Kelley and Jeff Bond), three "Lt Uhuras" (Julienne Irons, Kim Stinger and Jasmine Pierce), five "Pavel Chekovs" (Jasen Tucker, Walter Koenig, Andy Bray, Jonathan Zungree and Brian Tubbs) and four "Hikaru Sulus" (John Lim, George Takei, J.T. Tepnapa and Shyaporn Theerakulstit). See our cast list for full details.
The production values are so high, that several of the original actors and crew have decided to join in and help them create the episodes. This includes Walter Koenig (Chekov) and George Takei (Sulu) who were able to resume their original roles in this new series. Other original guest stars include BarBara Luna, Eddie Paskie, John Winston and  Mary Linda Rapelye as well as Denise Crosby ("Tasha Yar", TNG) and Bill Blair who originally stared in DS9).
The visual effects for "Come What May", "In Harm's Way" and "Center Seat" were made for us by Doug Drexler under the alias "Max Rem". Doug is known for his work on TNG and all subsequent Star Trek Shows and he even designed the "Enterprise NX-01". 
Also on board were, Daren R. Dochterman, known for his work on the Director's Cut of "Star Trek: The Motion Picture" DVD. For us, he worked on the opening title sequence and also provided "retro" visual effects for Mind-Sifter. 
Joel Bellucci provided the visual effects for Blood and Fire and was then also joined by Pony Horton. Pony is probably the only VFX artist who actually worked with the original VFX artists that made the original series. This includes Hugh Wade, Frank Van der Veer, and Barry Nolan who taught Pony directly how to make the various effects, including the transporter. Pony took on the role of VFX Supervisor for Kitumba and later episodes. 
Finally, Tobias Richter joined the team in 2009 who is well known for his beautiful space related visual effects. His work can be seen in Enemy Starfleet and all later episodes. Tobias is Germany's top CGI-expert working from his Cologne based company, "The Light Works".
On June 23, 2016 - CBS released new Fan-film guidelines which made it impossible for us to continue making new episodes. It was decided to close Star Trek New Voyages and concentrate on presenting our sets to the public as The Star Trek Original Series Set Tour under license from CBS.
---
Important: The "New Voyages/Phase II" episodes are available here and can be downloaded free of charge for private, non-commercial use. Please note that these episodes are copyrighted under the laws of the USA and other countries.

Unauthorised changes, use in other productions or products of our video, images soundtrack or subtitles are strictly forbidden and will be prosecuted. Do not make any copies for sale, not even to cover your own costs. The producers of Star Trek New Voyages/Phase II are not permitted to earn any money from these episodes and neither should you! Do NOT place copies of our episodes on your own website, etc. for download. We count the number of downloads in order to determine how popular our episodes are. You can link to this website instead (but not directly to the downloadable files).
STAR TREK and all related marks, logos and characters are owned by CBS Studios Inc. This website, the promotion thereof and/or any exhibition of material created by the operators of this website are not endorsed or sponsored by or affiliated with CBS/Paramount Pictures or the STAR TREK franchise.
---
All episodes are produced for no profit and are available as free downloads